In my 50's and solo, I know that love is a young woman's game. The stars we reach for in youth elude us when we grow tired and unsentimental. But when the pull of nostalgia rises, as it so often does when I walk to my favorite park bench for an afternoon of reading, I long for the thrill that love can bring. I look up from my book to see a stately gentleman work his way toward me. He stops and catches my eye, a twinkle in his.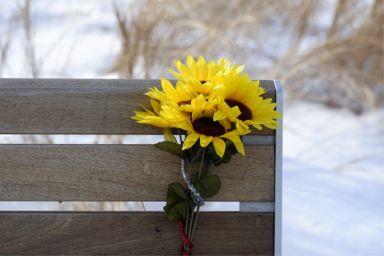 He is older, like me, but he walks with ease. He pauses just in front of me. A touch of gray at his temples, he runs a quick finger across the area just in front of his ear. The tingling of attraction that surges through me has been absent for so many years. It now brings a touch of heat to flush my cheek. I look away momentarily in the juvenile hope he won't notice.
He smiles, and I feel the sensual surge of youthful first meetings.
"May I sit beside you?" he says as the surge renews itself within me.
We are alone in the park as it is winter, and cold. The snow lies about us adding emphasis to the chill.
"Absolutely," I say with too much enthusiasm. I catch myself and tone down my fervor. "In fact, you can have the whole bench if you like. It might be a bit too much winter for me to be reading outdoors."
"Please stay," he says, "at least for a minute. I want to enjoy the company of a lovely woman, if even for a short time."
I blush at the word "lovely." How can I turn him down? My legs don't move as I watch him take a seat beside me, not too close, not too far. I deduce he must be a gentleman.
"I'm not sure I would characterize myself as "lovely," I say. "The bloom, as they say, is long gone from my flower." I laugh in the hope that I might engage a laugh from him too.
His expression remains serious. "Why would I want to sit with a girl?' he asks. "When I can enjoy the company of a more sophisticated and seasoned woman?"
His demeanor turns whimsical and he reaches his hand out, "Hi," he says, "My name is Henry."
I'm not sure what to make of him at this point, but my inner hope overcomes my reticence. I pull the mitten off my right hand and grasp his in a solid grip. "Hi," I say, "I'm Delores."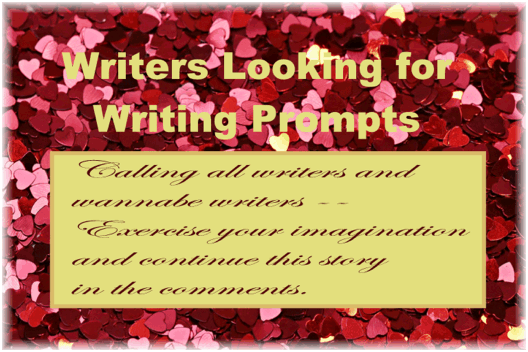 We converse as old friends might. He is easy to talk to. We both love nature, working with the soil, and entering gardening competitions. Exotic coffee is a secret passion. We move onto more personal subjects.
We both have lost longtime partners, but unlike me, he believes in the power of love to overcome heartbreak. He is optimistic about the possibility of love and fully intends on finding the second love of his life.
I agree to meet him a few days later, in that same park, at "our" bench. My lonely heart skips home, and I wait like a schoolgirl for her prom date, until our appointed time to meet. All the while fighting the fear that meeting Henry was much too good to be true.

When the day arrives, I approach the meeting place, only to see an empty bench in the distance. As I get closer, I spy a spot of yellow on the bench and quicken my pace. Tied to the bench are beautiful spring flowers, with a note attached. I pick up the note fully expecting it to relate a full spectrum of excuses.
Instead, it says: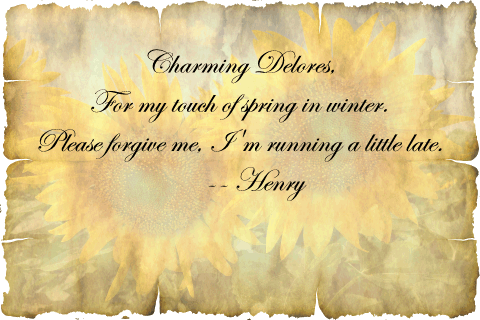 I hear a distant "Hello," and turn. Henry is coming closer with two cups of steaming coffee in his hands. Warmth rushes through me, and radiates to my face. Maybe there are stars that can be touched at any age, as long as we are open to them. Romance can bloom in a winter soul.

Copyright 2023, Monica Nelson